Home Investment in USA and Canada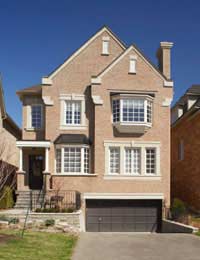 Think of the USA and New York is the city that instantly springs to mind. With the Statue of Liberty, Empire State Building, Broadway, Wall Street and the Chrysler Building, the Big Apple is the most iconic city in the world. It is the benchmark by which all other cities are measured, and many Brits cannot get enough of the energy, attractions and shops in the city that never sleeps.
The pace of life is frenetic and the fast-talking, wise-cracking New Yorkers are not the kind to make allowances, so it is not a city the faint-hearted. But if the pound/dollar exchange rate is favourable, New York is worth serious consideration for UK investors with plenty of financial clout. Prices are not cheap in the unofficial capital of the world, although, like London, property rarely loses value in New York.
Most New Yorkers Rent
Manhattan is the most exclusive of the five boroughs that make up New York (the others being Queens, Bronx, Brooklyn and Staten Island), but high property prices throughout the city mean 65 per cent of residents rent. Purchasing in a co-op is often the only way to get a foot on New York's property ladder, although there are non-national restrictions that vary from building to building and are often dependent on visa status.
Buying an apartment in a co-op - a residential property owned and managed by a corporation - means purchasing shares rather than actual real estate. These shares give the owner exclusive rights to live in the apartment until they are sold on in due course.
When buying in New York, enlist the services of a real estate broker, or agent, to find properties. Brokers get a commission from sellers, so the service should be free to buyers. Unless paying with cash, get pre-qualified with a mortgage lender, get an agent to make any offer and employ a real estate attorney to negotiate the price. If an offer is accepted, sign the contract and submit it for execution. It may be contingent upon buyer approval from the building's board of directors and, if so, submit a buyer's application including personal, financial and professional verification. Attend an interview if necessary.
Big Deposit Needed
A closing date will be set and there will be a final inspection of the property, the completion of pending financial transactions and an official deed/title will be created for the property. Buyers can expect to pay at least 20 to 25 per cent for a deposit, more if buying a co-op apartment, as well as two or three per cent for taxes and legal fees.
Another attractive American option is the Sunshine State of Florida. Walt Disney World in Orlando is still a very popular destination for tourists, and the new Harry Potter theme park at Universal Studios is sure to be another big draw when it opens in 2009. More than 50 million tourists visit central Florida annually, and it would take visitors 67 eight-hour days to see all of Orlando's 99 attractions.
There are no restrictions to UK citizens buying in America. In Florida, licensed title companies process the transaction through to completion, so there is no need to employ a solicitor. Closing typically takes around six to eight weeks, and if anything goes wrong the title company can be held liable.
Allow four per cent of the sale price for fees and taxes, although as stamp duty is levied on the outstanding mortgage amount and not the purchase price that figure can be halved for cash buyers. A tax of around 10 per cent is levied on all rental income, and if the property is sold, capital gains tax of 15 per cent on the profit is due.
Big Deposit Needed
Canada, a nation that covers more than 3,500 miles from coast to coast, can offer property as diverse as a city apartment and a log cabin in the country. It is largely rural but is also home to the big cities of Toronto and Montreal, a French-speaking city in a country whose first language is English.
Vancouver, the third largest city in Canada and largest in the province of British Columbia with a population 1.8 million, nestles up to the Coast Mountain Range is surrounded by water on three sides. It is regularly voted the best city in North America for quality of life, with one of the mildest climates in Canada, spectacular natural scenery and a bustling metropolitan core.
Buying property in Canada is relatively straightforward, but a lawyer should be employed to look after a buyer's interests. The amount of purchase tax and annual property taxes payable vary from state to state.
You might also like...