Home Investment in Morocco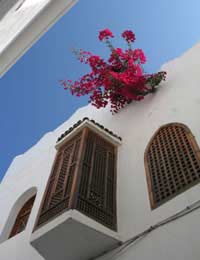 Morocco is only nine miles from the Spanish coastline, yet is very different in character from the western world. Exotic and dusty Morocco is entrancing, with the labyrinthine walled city of Fez, colourful souks of Marrakech and blue, bohemian port town of Essaouira among its highlights.
Yet the country's mystical air and snake-charming, incense-spiced, desert-driving delights disguise a modern outlook. Property and tourism are inextricably intertwined - as without property the tourists have nowhere to stay - and King Mohammed VI has big plans for tourism in Morocco. Vision 2010, launched by the King in 2001, is an ambitious plan to boost the number of tourists to 10 million per year by 2010 - there were 5.8million in 2005 - and for tourism to account for 20 per cent of Morocco's gross domestic product by 2010.
Morocco is part of the European Union's Open Skies agreement and there are now more than 100 direct flights every week between London and Marrakech alone. Overseas investors are attracted by the quality properties it offers just a few miles over the water from the Algarve and the Costa del Sol, but at a fraction of the price and with a lower cost of living and better weather. Most buy off-plan in new coastal projects, others snap up brand new properties built in a traditional Riad style, while more adventurous investors go for old Riads in need of renovation.
No Restrictions
UK citizens can own property in Morocco without restriction, but foreigners cannot buy land without the permission of the government. Generally, brand new or off-plan property is more straightforward and safer to buy and the process is not too dissimilar from most European countries.
A deposit is paid and a reservation contract signed before stage payments, and title deeds are handed over on completion, in exchange for the balance of funds, overseen by a notary. The balance can be covered by a mortgage from a Moroccan bank, with loans of up to 70 per cent commonplace. Re-sales include a two-week cooling off period between the preliminary contract and paying the 10 per cent deposit, which is returned should the seller back out. In general, when buying in Morocco:
Additional costs will be around five per cent of the purchase price to cover the notary's fee, taxes and property registration.
Enlist the services of an independent, bilingual lawyer.
Ensure the property has a title deed. If there is no title deed, allow around two per cent of the purchase price to cover the costs of tracking down the stated owners and creating a new one.
Income made must be declared in the UK and Morocco, but any taxes paid in Morocco will be deducted by the UK tax authorities.
A double taxation treaty between the UK and Morocco means that capital gains tax does not have to be paid in both countries.
Capital gains tax is 20 per cent if a property is sold within five years, 10 per cent after five years on profits over about £60,000 and nothing after 10 years.
No rental tax has to be paid for the first five years on buy-to-let purchases.
No inheritance tax has to be paid on properties left to a family member.
You might also like...