Buying an Investment Property in Scotland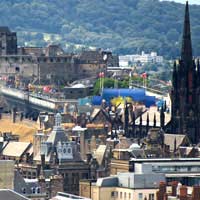 Scotland has its own legal system and so when it comes to buying property there are several fundamental differences between the Scottish system and that operating in England and Wales. Of course, the basics are the same, but the contracts - usually exchanged towards the end of the process in England - can become legally binding at a relatively early stage in Scotland and that has led to a different approach.
In Scotland, the contract takes the form of a series of letters known as 'missives'. Solicitors sign these on behalf of their client and once an offer has been accepted on all points, a legally binding arrangement has been entered into.
At this stage, if either party withdraws it can be held liable for the consequent losses of the other party. Once committed, those who want to get out of the deal might have to pay for any loss on resale and other costs. It is crucial, therefore, that any written offer is submitted through a Scottish solicitor who knows the country's separate and distinct legal system and is accustomed to working in this different legal environment.
Guess the Price
Occasionally properties are offered for sale at a 'fixed price' in Scotland, but most are up for sale on an 'offers over' basis. The latter means that a certain amount of guesswork is needed to secure the property at the best price. If it is a sellers' market, demand can push up prices, but if a property has been up for sale for a while a lower offer may be accepted.
There are no hard and fast rules and the price achieved will depend on the type of property, its location, the level of interest and the competition. As a general rule, a property will sell for around 20 per cent more than the 'offers over' price, but trends can change quickly.
It may take an offer well in excess of the asking price to take a desirable property off the market. Otherwise, a closing date will be set and interested parties are invited to take part in what is, in effect, a blind auction. Those bidding will submit a formal offer through their solicitor on or before the given date and the best offer secures the property.
Closing Date System
There are critics of the closing date system, but, if a number of interested parties are competing for a property, it will generally achieve the best price for the seller. One downside is that potential buyers may incur costs for a survey that is no further use to them if their offer is unsuccessful.
To avoid this waste of money, it is possible to make an offer 'subject to survey'. This is less attractive to the seller, as it gives the buyer a certain amount of control, but it may be accepted at a closing date if the offer is the most attractive one and the survey can be carried out quickly – usually within 48 hours.
If an offer is successful, the buyer's solicitor and the seller's solicitor will negotiate the missives. Once missives have been concluded, which is roughly equivalent to the exchange of contracts in England and Wales, the buyer is contractually bound to purchase the property at the agreed date of entry and the seller is bound to sell. The date of entry may be weeks or even months ahead and it is then that the full purchase price is payable.
You might also like...