Tips on Climbing the Property Ladder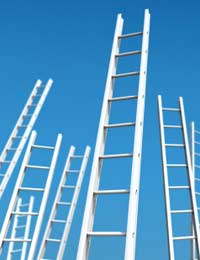 Climbing the property ladder can be a tricky business especially if you are a first time buyer trying to leap to the first rung. Using these tips may make things a little clearer when it comes to climbing the slippery and costly property ladder.
Look at the Current Economic Climate
Whether or not the time is right to buy should be a major consideration for first time buyers. If property prices and interest rates are low then it could mean that buyers can make a good investment. It may also mean that lenders are being very careful who they actually lend money to. Finding a 100% mortgage may not be an option for first time buyers as lenders become more stringent. Building up a good deposit to bring to the lending table will be an advantage when it comes to securing a good mortgage deal.
Widen Your Property Search Options
The property market is a huge one and high street estate agents are not the only place to buy property. Many sellers are choosing to cut out the middle men and sell their properties through other routes. Online selling has become very popular and can save buyers and sellers a significant chunk of money. Don't forget about auction house sales where sellers can pick up properties including repossessed properties at a good price.
Look at Government Assistance
If you are a first time buyer looking to jump onto the property ladder then look into the government's home ownership schemes. There are various home buy schemes run by the government designed to help first time buyers get onto the property ladder. This being the government there are of course certain stipulations and eligibility requirements before these loans will be given. However, if buyers do meet the eligibility requirements this can be a good way to buy or gain equity in a property.
Don't Simply Jump onto the Ladder
Many people are simply desperate to get onto the property ladder without weighing up the pros and cons. If you are a first time buyer then ask yourself what are your motivating factors behind buying the property. Is it the potential for an investment or have you had enough of renting? The motivating factor behind buying can make a difference when it comes to making a good investment. Many people think that renting is simply a waste of money but when the economic climate is down it does make more sense to rent and wait for better mortgage deals.
The Gap Between Rungs Will Become Larger
Many buyers are of the opinion that climbing the ladder becomes easier after you have bought the first property. But the gaps do widen when it comes to price and climbing the ladder. The difference in price between a two and three bedroom house is around £50,000. Progress further and the difference between a three and four bedroom house is just over the £100,000 mark. Getting your foot on the ladder can sometimes be a lot easier than actually climbing the ladder. Do not be afraid to stay on the same rung for a while until the best deal for the next move up can be found.
Don't be Afraid to Jump off the Property Ladder
If you have a good enough amount of equity in your home and are considering your next move then jumping off the property ladder for a while can be beneficial. While others are worrying about their mortgage and interest rates those who decide to sell and rent for a while can avoid the worries. Renting is no longer seen as a stepping stone towards the first property buy. Many people are taking the rental option as the cheaper long term option to buying, especially when the housing market is down.
Remember It Is a Business Transaction
Buying a property, even one you have fallen in love with, is a business transaction. Don't let your heart rule your head when it comes to property. Buying property is one of life's major investments and making a wrong decision can also have a major influence on your future finances. Jumping onto the first rung of the property ladder should never be taken without serious consideration and advice from professionals.
You might also like...