Buying an Investment Property in a Depressed Market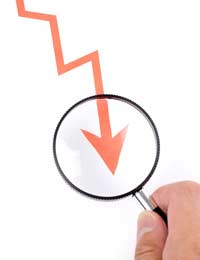 The property market does not grind to a halt just because house prices go into reverse. In fact, those looking to invest in property can pick up a bargain in a depressed market. There will be fewer suitable investment properties to choose from when the market cools, but that need not prevent investors from making some smart transactions.
When real estate prices are on the slide, the normal rules of the property market no longer apply. Rather than hold out for the best price possible, those selling tend to panic and try to offload properties to limit the damage. On the other hand, rather than make a strong bid for a property, those buying tend to wait until the market has hit rock bottom.
The fear for investors is that property prices will continue to fall long after their money has been spent, leaving them with an investment property worth less than it was the day they bought it. Of course, it is extremely difficult to second guess what will happen in the property market, but historically property has been a good-term investment in the UK.
Negotiate a Good Deal
Remember that competition will not be as fierce when the market slows down, so when a suitable property investment presents itself, find out how long it has been on the market. The more an investor can discover about the seller's situation, the easier it will be to negotiate a good deal. If the property has been on the market for a while, the vendor may be willing to accept an offer.
If the asking price has already been reduced on a property, it can be an indication that the seller is very keen to sell and may mean an even lower offer will be given careful consideration. Buyers are in a strong position in a depressed market, so take advantage of this fact and be willing to haggle to get the best price. Most sensible sellers will know the reality of the situation and will expect a certain degree of negotiation.
By taking time to research recent sale prices in the area, an investor can quickly establish an idea of what value the vendor can expect to achieve. If house prices are still on a downwards spiral, it may be possible to get a reduction on these recently achieved prices.
Hassle-Free Sales at Reduced Prices
When the economy is toiling, it can be difficult for people to get the finance in place to buy a property, but an existing landlord should have no such problems. Chain-free buyers with the funding in place should explain their situation to vendors, who may be willing to slice a significant amount of money off the asking price in return for a quick, hassle-free sale.
Obviously there are always financial risks involved when investing in property and that does not change in a depressed market. However, house prices are far less volatile than certain other investments, such as stocks and shares, and even when the economy is struggling house prices will, relatively speaking, remain fairly stable.
You might also like...