The Best Property Investment Towns in Britain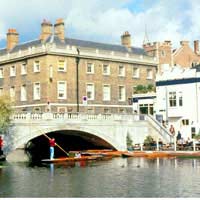 Although no property purchase can be regarded as a fail safe investment there are certain locations throughout the UK that are thought of as low risk investment opportunities. Residential researchers have analysed factors such as low unemployment, regeneration, and affordability to find the best property investment towns in Britain.
Safer Property Purchases in Cambridge
Historic Cambridge leads the way when it comes to safe property investment opportunities. Low unemployment, good workforce qualifications, excellent transport links to London, and recent business investments in the surrounding area make Cambridge a winner. Property prices are not low but there is a demand for houses in the area. Some buyers have waited years to find the perfect Cambridge property so there will always be buyers regardless of the economic situation.
Property Buying in Historic York
Another historic British town, another high ranker in the best property investment towns in Britain. York has a small amount of properties located in its centre and demand is high. Good transport links to nearby cities such as Leeds and London mean an abundance of commuters. York also benefits from excellent schools, both private and state run. Families have been know to move to York specifically for the educational facilities. The rental market in York is booming, which is good news for those looking to invest in the buy to let market.
The New Town on the Block
Milton Keynes has come a long way in its relatively short 40 year existence. Milton Keynes regularly makes it to the top five in the best property investment towns in Britain lists. Easy access to the beautiful countryside and yet only 40 minutes by train to London make Milton Keynes a safe property investment bet. The demand for city centre flats is extremely high and there are not enough new builds to meet this demand. Although very close to London the property prices are still reasonable making Milton Keynes a draw for city commuters.
Excellent Transport Links Mean a Safer Investment
One of the major factors to making a safer property investment is the transport links to nearby cities. Guildford benefits from its proximity to London and is a magnet for city workers who don't want to live in the city. Families are attracted to the excellent schools in Guildford and the attractive quality of life. Property prices are high but new build flats are reasonably priced and attracting single buyers looking to get onto the property ladder.
Excellent Property Investments in Brighton
The sunny seaside town of Brighton regularly sits high in the list of best property investment towns in Britain. Again, excellent transport links to London and nearby Lewes are one of the plus points of buying property in Brighton. The size of Brighton also means there is a greater choice of property available. The quality of life, good tourist market, and the young age of the population all go to make Brighton a very popular buying location.
Retirement and Safe Property Investment Towns
Not all buyers consider transport links to major cities to be a huge selling point. Retirement does play a part in buying and selling property. Many retirees decide to sell and move from the big cities to country cottages and small country towns. Topping the list of best country towns is Arundel in West Sussex. Londoners have been buying retirement properties in Arundel since the 1990s. Property prices are not low but there is a high demand from buyers looking to invest in this dreamy country town.
The Medieval Town with Great Property Prices
The medieval market town of Beverly in Yorkshire has been recently named as the best value for money town in the UK. Beverly benefits from excellent schools and a high quality of life. Beverly residents lead affluent lifestyles and the town boasts many first class restaurants and shops with very little negative elements such as betting shops and fast food outlets. Demand for property in Beverly is high and this beautiful town is a good investment opportunity.
Property Hot Spots in Scotland
Scottish towns have always attracted property buyers thanks to the low property prices. Towns such as Perth, Inverness, and Livingston regularly hit high in the best value for money lists. Easy access to the major Scottish cities such as Glasgow and Edinburgh and the surrounding countryside make Scottish towns a good investment bet. Tourism is also high in Scotland making the buy to let holiday home a great investment opportunity.
You might also like...