Sell it yourself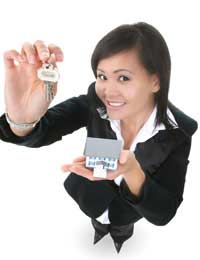 There is only one reason any sensible person would consider ditching an estate agent in favour of selling a property themselves – to save money. A good estate agent can take the hassle out of selling a property, will provide security, negotiate with potential buyers, manage property chains and guide the seller through the whole process as painlessly as possible.
With local knowledge, experience of selling property in the area, a ready-made list of potential buyers and a very good idea of what the property is worth, an estate agent can secure a price that can be difficult to match for those who go it alone. After all, it is what they do and their incentive is a cut of the selling price.
And therein lies the crux of the problem. The vast majority of estate agents charge a percentage of the sale price – typically between one and two per cent – and employing multiple agencies can cost up to 3.5 per cent of the sale price. There can be advertising and administration fees on top of that and for some it is simply too much.
Use the Internet
If an investment property has been bought and renovated to sell on, there may not be enough in the kitty to pay estate agency fees and still turn a reasonable profit. Thankfully, there are other options available, and the internet age has made it easier to sell a property privately.
Some websites offer free advertising space for private sellers. Take photographs of the property looking at its best, describe it in as much detail as possible and add all the relevant financial and legal information. If in doubt, have a look at the websites of some of the leading estate agents to see what should be included.
It is a bit ambitious to expect the offers to flood in, as it is questionable how many potential buyers looking for a property in the area will stumble upon a free online ad. There are other websites that will charge private sellers a flat rate to advertise and some even take a percentage of the final selling price, although are careful to undercut estate agents.
Estate Agents Are First Choice
The problem is that, according to The Royal Institution of Chartered Surveyors, only between three and four per cent of sellers sell properties privately. This means that the vast bulk of properties for sale are still sold through estate agents, so buyers will head there first.
It is possible to strike it lucky and generate enough interest through free and low-cost website advertising to achieve a sale at or close to the asking price. But private sale websites are still very niche, and it is a financial risk because the property may remain unsold for a considerable time.
A better option for those looking to save money is to employ an estate agent and advertise the property for sale privately too. As long as the estate agent does not stipulate in the contract that it should be the sole agent, this can be a no-lose situation. If the free ad generates a reasonable offer, the vendor does not have to pay the estate agent, and if the estate agent achieves a top price there should be enough to pay the fees and still earn a profit.
You might also like...