Attracting a Property Sale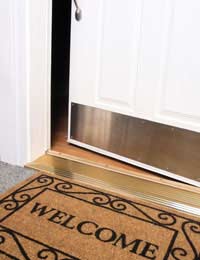 The best times to sell a home are in spring and autumn, because the property market traditionally slows down in late summer and over Christmas and New Year. If the market is buoyant, there is more chance of getting the asking price. Unfortunately, property investors cannot always choose when to sell, as most want their freshly refurbished home sold and pulling in a profit as soon as possible.
Luckily, there are plenty of ways to attract a sale regardless of the time of year, and small changes can maximise the selling potential of a property. First impressions really do count, and most potential buyers will have formed an opinion before stepping into a house.
Don't Neglect the Garden
It is important, therefore, not to neglect the garden. Feed the lawn in the weeks before the property goes on the market and cut it before viewings. A garden will be appealing if it is well-kept with pathways and fences in good order. Plant pots can provide colour in the garden and, for those without green fingers, can be bought ready-made. Also, give the front door a fresh coat of paint and polish the brass fittings to create a good early impression.
Although it is fairly labour intensive, painting the interior throughout is a relatively cheap way of giving a house a lift. Take time to do the job properly, however, as surveyors can spot attempts to spruce up a property using quick fixes. Make sure all the small DIY jobs have been done, such as replacing washers on dripping taps and touching up chipped woodwork.
Get Rid of Clutter
Where property investors have an advantage is that there is generally less clutter throughout the house because, as a rule, they have not used it to live in. It is crucial that buyers use the viewing time to look at the property and not the owner's possessions, so, if there are any, hide any private items until the property is sold. Clutter can distract potential buyers, but clean, empty rooms can make it easier for viewers to imagine their own belongings in a room.
Most investment properties are free of furniture when sold, but if there are items of furniture ensure they fit in with the fresh décor and are in good condition. A property can be more appealing to potential buyers if rooms have a specific purpose, so organise rooms so that viewers can see the full potential of the property. Finishing touches, like flowers, candles and a bowl of fruit, can brighten up a room and provide a pleasant smell.
Provide a Welcoming Feel
Before viewings, try to avoid any strong food odours in the property. Don't cook curry or fish in the days before a viewing and avoid the temptation to get a carryout for sustenance while putting the finishing touches on the property, because the smell will linger. It's a cliché, but the smell of fresh coffee or freshly-baked bread is said to provide a welcoming feel, so give it a try. Also, ask friends or family to look after any pets during viewings.
Try to make potential buyers feel comfortable. Offer a cup of tea or coffee and ask if they need any further information about local school, shops, roads or details of council tax and utility bills.
You might also like...