Dealing with Bad Tenants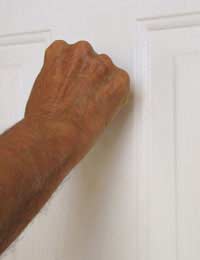 Even when a landlord takes every possible precaution to ensure tenants are trustworthy, it is possible for unruly tenants to slip through the net. It is not only bad tenants who can cause problems, either. It is possible for a once reliable tenant to be made redundant or suffer a financial setback and struggle to pay the rent as a result.
Bad tenants come in many forms. It may be that the rent is overdue, or perhaps the tenant has left without notice. Maybe the property has been mistreated or misused, or the furniture has been damaged, or maybe the tenant's antisocial behaviour is annoying neighbours.
Whatever the circumstances, it is almost always better to try to solve the problem without resorting to legal action. Try to explain to tenants what is expected of them and what must be done to put things right. If this fails, put the complaint to them in writing and keep a copy in case proof is needed, at a later date, that action was taken to try to solve the problem.
Court Action
If all attempts to reason with the tenants fail, a landlord can ask a court to agree to evict a tenant in certain circumstances. The law recognises specific reasons for ending the tenancy, which are called 'grounds for possession'. Some grounds for possession are mandatory and others are discretionary.
In mandatory cases, the court must agree with the landlord's request to evict, as long as the landlord provides proof. In discretionary cases, the court does not have to agree with request to evict if it considers the request unreasonable or if the landlord has not proved the case.
Landlords must give tenants written notice of their intention to go to court to get possession. Court proceedings cannot start until this notice period is over, and the minimum notice period can vary according to the different grounds for possession. Failure to follow the correct procedures before taking a property back can lead to a landlord being prosecuted for unlawful eviction.
If the tenancy is for a fixed term - either an 'assured tenancy' or 'shorthold tenancy' - and that term is not yet over, mandatory grounds for possession can be granted if a:
Bank or building society wants to sell the property to pay off mortgage arrears.
Tenant owes at least two months' rent.
Discretionary grounds for possession can be granted if the:
Tenant is behind with their rent.
Condition of the property deteriorates as a result of the tenant's behaviour.
Tenant is persistently late paying the rent.
Landlord grants the tenancy on the basis of false information provided by the tenant.
Tenant breaks one or more of the terms of the tenancy agreement.
Condition of the furniture deteriorates because it has been ill-treated by the tenant.
Tenant causes a nuisance or annoyance to a neighbour, or has been convicted of using the property for immoral or illegal purposes, or an arrestable offence is committed in the property.
If it appears as though tenants have abandoned a property, written notice must be sent explaining that the landlord wants the property back. The landlord can then ask the county court for a possession order for non-occupation.
Tenants may claim, at a later date, that they had not left and bring a case of unlawful eviction against the landlord. It is vital, therefore, that the landlord can show there was reasonable and genuine proof of abandonment, and that attempts were made to contact the tenants.
If a property appears to have been abandoned and is not secure, a landlord can make it secure - by fitting new locks, for example - but must ensure the tenants can get in touch immediately if they return, so leave a 24-hour contact number on the door.
AN INVESTMENT PROPERTY IS FOR SALE.
This website is for sale [more info].
You might also like...