Screening Potential Tenants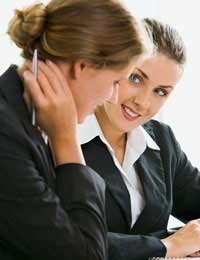 A lot of work, time and money go into finding the right buy-to-let property and renovating it, so the last thing any landlord wants is a dodgy tenant moving in. It is crucial to ensure that potential tenants are who they claim to be, can afford the rent and will not wreck the property.
Never fall into the trap of accepting applicants on face value. Instead, take steps to sort the wheat from the chaff and, ideally, get a tenant verification company to check out applicants.
The first stage of the screening process is the advertisement. Make sure it is placed in the correct publication or website to reach the audience targeted and be clear about who the property would and would not suit.
Have a Checklist
First impressions count, so when potential tenants call to enquire about the property do pass on the relevant details, but be sure to collect information about their situation too. Have a checklist and ask about employment status, reasons for moving, if they have children or pets, if they smoke and who will provide their references. Remember to get contact details, including a mobile phone number. If they can't or won't answer any questions, it's time to bail out.
A good landlord will want tenants to be happy, because unhappy tenants are more likely to move on. It is important, therefore, to get tenants that are suited to the property. When potential tenants view the property, take the chance to find out if it really meets their needs.
Try to pick up on clues as to how the property would be treated in their hands. For example, smartly dressed applicants who arrive on time in a clean and tidy car and wipe their feet on the doormat may be a better bet than scruffy applicants who arrive late in a messy car and then smoke inside the property.
Call in the Experts
Before running checks on potential tenants, a landlord must have their permission. Any applicants unwilling to give this permission are unlikely to be ideal tenants anyway, so rule them out. Most people are less likely to be dishonest once they know that checks will take place. Others will chance their arm, however, and a tenant verification company can weed out those who lie about their employment, have undeclared County Court Judgements (CCJs), or have avoided paying rent and run up arrears in the past. It can cost under £10 per person for the most basic check, although it may be more for the features needed.
Avoid relying on a reference from a bank, as banks tend to be reluctant to pass on negative information about customers. A glowing reference from a current landlord may be an attempt to get rid of a tenant, so try to contact the landlord before last instead.
Always ask for a guarantor if the applicant is a student, migrant worker or someone in their first job, and apply the same stringent reference check and verification process to the guarantor. Ensure previous landlords are genuine and ask to see a utility bill with the applicants name and address on it. Finally, if the applicant is self-employed, ask for references from their clients.
You might also like...