Letting an Investment Property to Students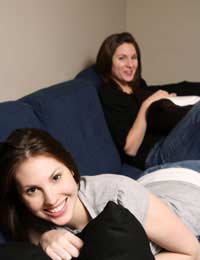 If an investment property is close to a university or college, letting to students is an option to be considered. Many landlords will be put off by the stereotypical student, who spends his days in bed or in the pub and will only attend lectures and seminars if the level of alcohol consumed the night before allows.
While there are undoubtedly students who will fit the stereotypical image, the vast majority do not. Remember students enter further education for a purpose – to learn and earn a degree – and so will have to put in the required work. Having said that, when letting to students a landlord should expect the accommodation to host more than its fair share of parties.
Certain types of investment properties are more suitable for students than others. The best type of real estate for this market is a large house with four or more bedrooms that can be let out to a group sharing. Ideally, it should be nearby the university or college too.
Low Rents for Poor Students
Landlords with an upmarket property may want to look elsewhere for tenants, as the average student will have little in the way of income and plenty to spend it on. Spending huge amounts on rent tends not to be an option for students.
When it comes to furnishing student accommodation, a landlord should concentrate on finding durable and practical furniture. It would be unwise to invest in expensive and luxurious items, as, in general, students are not the most conservative of tenants and the furniture is likely to take quite a hammering.
Provide sturdy and reliable appliances and white goods, as these will very probably by well used. It is false economy to buy cheap white goods, as these will not stand up to the wear and tear and the landlord will have to replace them sooner rather than later. Fit gas central heating to avoid condensation problems, pick heavy-duty carpets in dark colours and use washable covers and curtains.
Get a Gardener
The plumbing has to be in good order, as the boiler, shower and washing machine will all be well used. Some outside space to park bicycles is useful, but it is not realistic to expect students to look after a garden, so if a property has one the landlord should employ a gardener and take the cost into consideration when calculating the rent.
Most towns and cities with educational centres have a constant stream of students on the look-out for suitable accommodation, so if a landlord has an investment property that meets their requirements there should be no shortage of eligible tenants. As students will willingly cram into accommodation to keep costs down, the landlord can get a good return on his investment too.
But the property investment is likely to be left empty during the summer months when the students go home at the end of the academic year. Also, landlords must be aware of regulations, particularly those regarding fire precautions, that need to be adhered to when renting out a property to students or any multiple occupancy households.
You might also like...