New Landlord and Successful Letting: A Case Study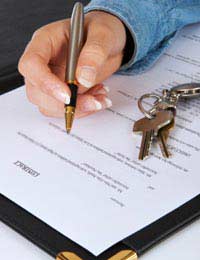 Letting a property is not always as easy as it seems. Becoming a new landlord can come with some pitfalls and successful letting can mean learning from your mistakes, as this case study shows.
Letting Out Your Own Home
Paul Middleton, 36, had to relocate from his home town in Edinburgh to London for work. Finding he was unable to sell his one bedroom flat he decided to let the property through a letting agency. "This was the beginning of all my letting problems with my own naivety being the biggest problem," Paul said. "I went through a local letting agency I thought I could trust and stupidly didn't sign a contract. I just handed over the keys with the contracts to be sent down to me in London." Two months later and after many telephone calls Paul was informed that a tenant had been finally been placed and payments would soon be received.
Paying Rent and a Mortgage
Paul was now paying rent on a property in London and paying a mortgage on his property in Edinburgh. By the third month no payment had been received. "My phone calls weren't being answered and I decided to go back home and see for myself what was going on," said Paul. "When I got there I found out that a tenant was in my property and had been paying rent for three months. The letting agency had closed down." Paul found out that he wasn't the first person this had happened to through this letting agency. Unfortunately the letting agency manager had disappeared taking all of the rent money with him.
Always Obtain Letting Contracts
The first thing Paul did was to see a solicitor and draft a letting contract for his new tenant. "I decided to keep the tenant in place as they had been paying the rent, just not to me." Paul set up a direct debit payment arrangement so that the rent would be paid directly into his bank account every month. "The biggest thing I learned from this mishap was not to take anyone at face value," he said, "It was a valuable lesson that I used when letting other properties. Contracts are king and they are a vital as a form of protection."
Always Obtain a Letting Deposit
Unfortunately this was not the end of Paul's letting problems. After six months his new tenant had stopped paying rent. After repeated unanswered phone calls Paul again made the journey to Edinburgh. "When I got there I found the flat empty and not only that but the shower system had been ripped out." Paul had forgone a rental deposit as the tenant had originally paid a deposit to the letting agency. "Never forgo deposits they are another form of protection against damages to the property, especially if you cannot regularly check on the property."
Building a Property Portfolio
Paul eventually found a new reliable tenant by conducting the interviews himself. With contracts, one month's rent and one month's deposit in place he now felt secure. His mortgage was being paid and an opportunity arose to buy another property with a partner. "A friend had found a property that was perfect for buying to let. It was a low price as it needed renovating. But my friend was a builder and was planning on renovating it himself." Paul and his business partner bought the property at auction and the renovation took less than four months to complete.
Letting Out More Than One Property
Within two years Paul and his business partner had over 10 rental properties in place. "Once the business took off I moved back to Edinburgh to concentrate full time on property rental." Paul said, "Edinburgh is a great place to rent properties as there is a huge student population and we are looking to expand further." Paul insists that the business is not as easy as it looks. "There can be some headaches and the more properties the more risk but we tend to buy properties in need of renovation at a low cost. The current economic market means it is a good time to grab a property bargain."
Learning From Past Mistakes
Paul claims that his past mistakes spurred him on to be extremely careful when choosing tenants and to make sure that he has the appropriate insurance policies in place. "I wouldn't advise becoming a landlord to everyone but if you make a few good choices early on you can progress up the ladder."
Knowing the details of the buy to let property market is vital including issues on tax, insurance and the cost of mortgage versus expected income. Having a good buy to let mortgage deposit is also essential as is an excellent credit history.
You might also like...