How I Became a Property Developer: A Case Study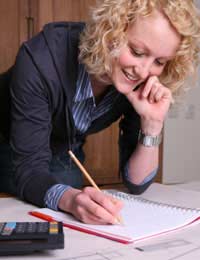 Thanks to numerous televisions shows it seems that every second person's dream job is to become a property developer. Property development can be a risk but it can be a lucrative investment opportunity for those who understand the business.
Becoming a Property Developer
Some people get into property development as a way to make quick cash while for others it is a life long dream. For Jessica Lloyd it was the latter that drew her into the property development game. She had become hooked on the idea of becoming a property developer from an early age. "I suppose at 22 I am quite young to be a property developer but it has been my dream since I was about 16 and all of the television shows made it seem so easy," said Jessica. "Luckily I had supportive parents who are both in the trade. Mum is an interior designer and dad's a builder."
Taking the Plunge into Property Development
That first step into property development meant financing and for Jessica this is where the bank of mum and dad became invaluable. "I suppose I am very lucky that both my parents said that if I found someplace they would help with financing on the condition that it seemed a very safe investment," she said. "Not everyone can obtain financing that easily and it can be a major gamble for amateur developers who do have to remortgage and place their homes as security."
Finding That First Development Project
Jessica found her first property development project by simply jumping into her car and driving around London for days. "Finally I saw a run down house in South London with a tiny for sale sign in the window and I simply knocked on the door and asked how much?" The property was an excellent development prospect and by buying direct from the seller Jessica was able to save on fees. Once Jessica's parents saw the potential and the low price they arranged financing. The development started by converting the large property into two flats.
Getting Lucky on the First Property Development
Jessica sees her first property development project as a small amount of luck in finding her first house mixed with a large amount of determination. "I know many people have the dream of being a property developer and that dream has turned into a nightmare on the first project," she said. "But I undertook a lot of research on the first project and took a huge amount of advice from both of my parents, and listened to them." Jessica made a 20% profit when she sold her first property and soon began looking for her second project.
Developing a Property Development Career
In four years Jessica's property development career has gone from strength to strength, even during the recession. "Prices are slowing down but there are still desirable locations where people are still willing to buy, "said Jessica. "It doesn't really cost any more to develop properties in different locations so I do tend to concentrate on locations now where I know the property will sell once the project is completed." Two of Jessica's property development tips are to buy property with something wrong that can be easily fixed and never overdevelop a project.
Tips for Becoming a Property Developer
Jessica claims that she has made many mistakes along the way and learnt from them. "Never pay over the odds for a property and then cross your fingers that you will make a profit come sales day, there are no guarantees in this business." Jessica's other tips are to keep track of every single penny spent with a budget and to always stick to a timetable. "Every time you go over a timetable to complete a project it adds costs and that can mean increasing amounts of interest on loans." Another tip is to aim for a specific market, such as student accommodation where development costs can be kept low.
Jessica's property development career has been successful and she claims this is in part because she isn't just in it to make some quick cash. "It was never really about making huge amounts of money," she claims. "I love this job and realise I really have a flair for it. I wouldn't say I put my soul into every property development project but I love getting up in the morning and going to work. That does make a huge difference I think."
You might also like...