Your Investment Property: Conveyances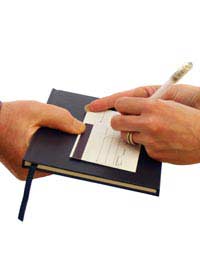 Legal costs are unavoidable when purchasing property and can be considerable. The legal process of buying and selling a property is called conveyancing, and includes drawing up contracts, carrying out searches, and looking after all post-completion paperwork.
It is far from straightforward, and most buyers and sellers choose to hire a conveyancer - the generic term given to either a licensed conveyancer or conveyancing solicitor - to do the work. The conveyancer will handle any negotiations over price and give advice if anything unexpected happens during the sale process.
Fees for conveyancing work can vary wildly, so it is best to obtain at least three quotes from different companies before making a decision. It should be made clear what costs are included in the quote. A conveyancer will typically charge an indemnity fee and for time, phone calls, letters and faxes. Any unforeseen problems that arise are often dealt with through an extra charge.
Leasehold Fees are Higher
For a property costing £100,000, expect to pay in the region of £550 in fees. The cost will depend on whether the property purchased is leasehold or freehold. A leasehold property will cost more as it involves additional work checking the lease.
In general, conveyancers will ask for payment of local authority search fees and land registry in advance. The balance will be due when the purchase is completed. As with most services, the cheapest is not always the best. Professionals offering a cheap deal could be handling many clients and this will more often than not result in a slow service.
Every solicitors practising law in England and Wales has to be registered with the Law Society, although there are separate societies in Scotland and Northern Ireland. One of the best ways to find a reliable conveyancer is through a personal recommendation from a friend or family member who has bought a property in the area. Failing this, it may be possible to glean a recommendation from an estate agent or mortgage broker.
Get Out the Chequebook
Once chosen, a conveyancer will ask to see some form of identification, such as a passport or driving licence, and, if appropriate, the mortgage lender's details. They will also want to see a chequebook.
When an offer is placed on a property, the estate agent will request the conveyancer's details and will pass those details on to the seller's conveyancer. It is, therefore, a good idea to establish contact with a professional before looking for a property, and so avoid having to rush what is an important decision.
A conveyancer's job is to take care of all legal aspects of buying a property, which include:
Local search.
Land charges search.
Land registry.
Stamp duty.
Home information packs.
Apart from the conveyancing work, there is also the lender's legal work to be done when a loan is involved. If the same conveyancer acts for the lender, it should save money. The main task here is to set out the conditions of the loan in a mortgage deed. The lender will then hold the mortgage deed and the title deeds of the property until the loan is paid in full.
You might also like...