DIY Basics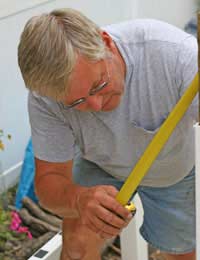 Renovating an investment property can be an expensive business and tradesmen's fees can eat into profits. One way to keep costs down is to identify a number of DIY jobs, but it is important to be realistic about what can and cannot be tackled without expert help.
Think carefully about the skills and knowledge needed to carry out a DIY job and only take on a task if confident it can be completed without any difficulty. Plan how much time will be needed to complete the job and be as realistic as possible. For example, before decorating a room it may be necessary to clear furniture, take down pictures, cover up carpet, strip walls and skirting, wash down surfaces and patch up any damaged areas. This can take as long as the decorating itself and should not be underestimated.
Setting unrealistic targets can be dangerous, as injuries often occur when people are rushing or overtired. This can be avoided through proper planning and gaining a clear understanding of what the job entails before starting.
Know the Risk
More than 200,000 people end up in UK hospitals every year due to DIY accidents, with 87,000 of them hurt while using tools or machinery. Jobs that put people at the greatest risk of injury include working up a ladder - leading to 40,000 hospital admittances every year - or on a roof. Knives are the most dangerous tools, resulting in 22,000 injuries per year, while saws account for 14,000. Materials can be just as hazardous, with paving blocks and bricks causing 21,000 DIY accidents a year, planks 19,000 and nails and tacks 18,000.
Seventy people are killed every year carrying out improvements and repairs to their homes, so it is vital to take all necessary precautions with safety equipment. Find out exactly what is involved every step of the way before starting, plan each individual task and work out the order in which they should be carried out. Estimate amounts of materials needed, allow enough time for the job and ensure all the proper tools and materials are in place before making a start.
Jobs For Experts
There are certain jobs that must be left to the experts. For example, gas work should never be attempted by anyone other than a CORGI registered tradesman, and electrical work is highly regulated so follow all government guidelines. These include getting in an expert who has been approved by the local authority. Also, it could cost more to put right a botched job, so don't overstretch.
Carrying out a DIY job can be false economy for some people. For example, those in well-paid jobs may find the time can be put to better and more financially rewarding use elsewhere. Work out how best to use the time and consider calling in an expert if it will save money.
It is also important to work to a budget. If decorating a room, it may be possible to repaint for as little as £50, but wallpapering could double that cost. Additional outlay may be needed for carpets, curtains, upholstery and lighting and with an investment property a balance must be found between making improvements and keeping costs down, so start with a budget and stick to it.
You might also like...