Decorating Tips on Property to Let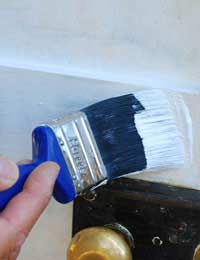 Time and money spent on painting and decorating can reap rewards when the first tenants move in. Do a good job and a buy-to-let property can achieve its optimum rental income. It will be easier to find a choice of tenants if the property is decorated to a high standard, and those willing to do some or all of the work themselves can keep costs down.
Knowing the painting and decorating basics can reduce the time taken to complete a job and improve the finished look.
When painting ceilings and walls:
Make sure surfaces are clean, dry and free from grease and dust.
Fill cracks and crevices and smooth down with sandpaper when dry. If walls are still uneven, hang lining paper before painting.
Buy the best brushes and rollers the budget will allow.
Estimate the room's surface area and check the coverage details of the paint to ensure there is enough for the job.
Put masking tape around windows, door frames and skirting boards, and use dust sheets on the floor.
Paint the ceiling first, starting with the edges before using a roller to paint the middle.
Paint the corners and edges of the room with a brush and use a roller for the rest of the room.
Don't apply paint too thickly. Two thin coats are better than one thick coat.
For oil-based paints have white spirit or turpentine solutions for cleaning brushes and rollers.
When using gloss paint on doors, door frames, skirting boards and window frames, the surfaces have to be sanded down first to provide a semi-rough surface that the new gloss can adhere to.
If surfaces are thick with paint, it may be necessary to strip off the old gloss first. This can be done in a number of ways, but the best is to use a heat gun. The paint does not need to blister before it is removed, so experiment to find the optimum time to leave the heat gun on an area before removing the paint in even downward strips with a scraper.
Clean the scraper regularly and scrape paint off immediately because it hardens as it cools. Shield areas not to be stripped and on window frames make sure not to concentrate heat on the glass, as it could crack.
When filling cracks, use powdered filler that has to be mixed, as it is easier to sand. Pour the powder into water while stirring, following the manufacturer's instructions. Ensure the crack is dry and free from grease, debris and dust, and apply the filler with a scraper until it is slightly proud of the hole, because the filler will shrink as the water evaporates. Allow it to dry and sand down.
To strip wallpaper it is best to use a steam stripper. Just hold the steam pad against the paper for about five seconds and move to the next patch. While steaming one patch of paper, strip the paper from another with a scraper. The steam can damage weak plaster. If the plaster moves or has a hollow sound when tapped, it is loose, so remove it and fill the hole.
When hanging wallpaper:
Strip walls, fill and smooth over cracks and ensure surfaces are clean, dry and free from dust and grease.
Estimate the surface area and get enough wallpaper for the job, checking that batch numbers match.
If using backing paper to cover uneven walls, hang it horizontally.
Follow the manufacturer's instructions to prepare the adhesive and apply evenly. Ensure edges are well pasted.
Allow to soak for up to 10 minutes.
After hanging, remove excess adhesive with a clean, damp sponge and smooth away air bubbles.

AN INVESTMENT PROPERTY IS FOR SALE. This website is for sale [more info].

You might also like...